Pre-made Avatar Requests
What is a pre-made avatar?
A pre-made avatar is an avatar that has been made in advance by the designer. You can select a pre-made avatar from the relevant gallery and request the designer that made it, to add your name.
These differ in regards to designer avatars, because "designer" avatars are made using an image that you provide. For more information on designer avatars, please click the link to your left entitled "Designer Avas"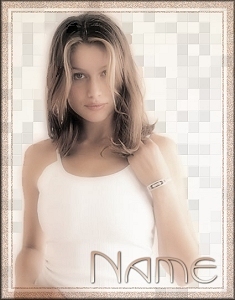 Sample Pre-made Avatar
Where can I view the premade avatars?
If you click the link to your left, entitled "Premade Gallery", you can view the current avatars up for grabs.
Is there a limit on how many I can order?
Yes, please check the ordering guidelines on the pre-made gallery. This will inform you of how many you are allowed to order.
Can I ask for changes to be made to the premade?
No. The only alterations that will be made to the premade's are the names being added. They are "pre-made", therefore cannot be changed.
How do I order a premade avatar?
Once you have selected the avatars you want, take a note of the specific file name each one has, (eg - susie blonde 3) and go to the request forum, and to the premade ordering board. Place your request there, specifically mentioning the file names, and the name you wish to be added to it. The designer who made the premade will then complete the avatar for you and post it on your thread for collection. Once you pick the avatar up, please post to say that you have collected it.
What happens if I dont collect the avatar?
If the avatar is uncollected within two weeks, it will be returned to the gallery for someone else to chose. If however you know that you wont be able to collect it within the two week time-frame, please mention this in your post on the request forum.
If I dont collect an avatar I have requested, can I order again?
No. It takes 2 minutes to make a post and thank the designer for their time and effort creating the avatar for you. If you cant take the time to thank them and collect the avatar, then chances are you will not be allowed to request from them again.