<!============ menu area ==========>
Miscellaneous Things
About this section...
In this section, you will find anything and everything that doesnt fit into one of the other sub menus. At present it doesnt contain much, but will continue to grow as and when time permits, and new things become available, so watch this space!
Web Rings we belong to...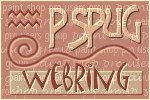 This Paint Shop Pro Users Group Net Ring
owned by Avatars by Design.

[ Previous | Next | Join | List Sites ]